Ukraine/Russia Sanctions: OFAC General License No. 1B Authorizes Derivative Transactions Linked to Prohibited Debt Under OFAC Directives 1, 2 or 3
On November 28, 2017, the Treasury Department's Office of Foreign Assets Control (OFAC) issued General License No. 1B under Executive Order 13,662.[i] General License 1B authorizes "[a]ll transactions by U.S. persons, wherever located, and transactions within the United States involving derivative products whose value is linked to an underlying asset that constitutes prohibited" debt issued by a party subject to the debt prohibitions of OFAC Directives 1, 2, or 3 or prohibited equity under Directive 1.[ii]
As explained by OFAC, the changes implemented by General License 1B "relate to the amended Ukraine-/Russia-related Directives 1 and 2 that were issued on September 29, 2017 in accordance with Title II of the Countering America's Adversaries Through Sanctions Act of 2017 (CAATSA)."[iii]
As discussed in an earlier MassPoint Business Update on OFAC Directive 1, it was expected that OFAC would issue, by November 28, 2017, a general license authorizing derivative transactions in  prohibited debt and equity (see table below), consistent with the debt maturity limitations imposed by CAATSA.[iv]
General License 1B does not authorize primary transactions by U.S. persons (wherever located) or in the United States in assets subject to the prohibitions of Directives 1, 2, or 3.[v] 
"New" Debt 
The key to determining if debt is prohibited (or allowable maturity periods) under Directive 1 is the date on which the debt was issued.
Period When the Debt Was Issued
Allowable Maturity Period
On or after July 16, 2014 and before September 12, 2014
90 days or less
On or after September 12, 2014 and before November 28, 2017
30 days or less
On or after November 28, 2017
14 days or less
 
New Equity
The date on which equity is "new" (and thus prohibited if issued by an SSIL entity) is the date on which the equity issuer became an SSIL entity (by the entity's listing on the SSIL or operation of the 50% Rule).  The earliest date on which an entity could have become an SSIL entity subject to Directive 1's prohibitions is July 16, 2014.
Financing for and other dealings in prohibited debt and equity.  
Directive 1 prohibits, within the United States and by U.S. Persons, the "the provision of financing for, and other dealings in" debt and equity transactions prohibited by Directive 1.
For more information about U.S. Sanctions related to Ukraine/Russia, please contact Hdeel Abdelhady at habdelhady@masspointpllc.com.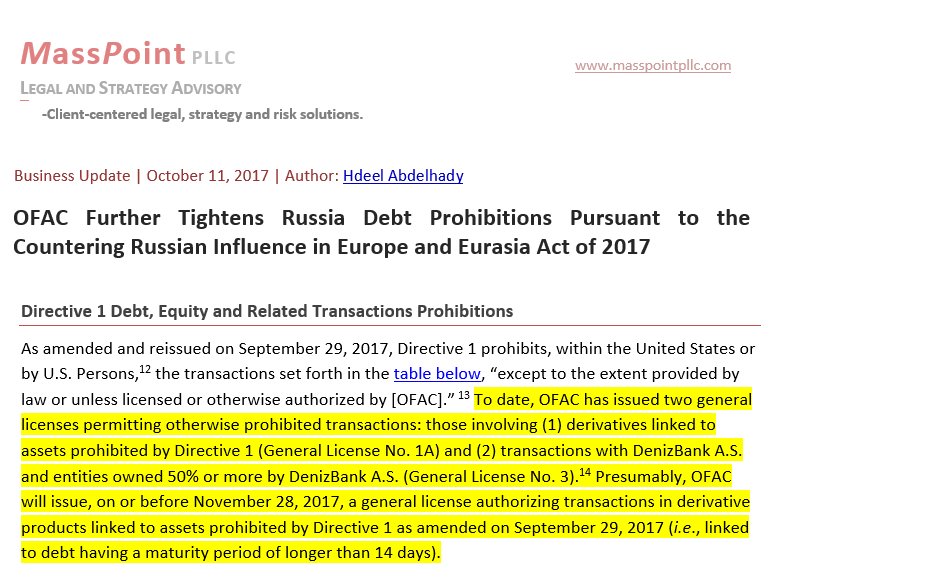 ---
NOTES

[i] Executive Order 13,662 of March 24, 2014, Blocking the Property of Additional Persons Contributing to the Situation in Ukraine ("EO 13662"), is the principal legal basis for U.S. Sectoral Sanctions related to Ukraine/Russia. For more information on U.S. Sectoral Sanctions framework and OFAC Directives issued thereunder, see MassPoint's earlier business updates: OFAC Further Tightens Russia Debt Prohibitions Pursuant to the Countering Russian Influence in Europe and Eurasia Act of 2017 (October 11, 2017) and United States Adds Russian Direct Investment Fund, Other Russian Financial Services Actors to Sectoral Sanctions List (August 7, 2015).

[ii] General License No. 1B(a).

[iii] OFAC, Issuance of Ukraine-/Russia-related General License 1B; Updated FAQs, November 28, 2017. See also MassPoint PLLC, OFAC Further Tightens Russia Debt Prohibitions Pursuant to the Countering Russian Influence in Europe and Eurasia Act of 2017 (October 11, 2017).

[iv] MassPoint PLLC, OFAC Further Tightens Russia Debt Prohibitions Pursuant to the Countering Russian Influence in Europe and Eurasia Act of 2017 (explaining that" "As amended and reissued on September 29, 2017, Directive 1 prohibits, within the United States or by U.S. Persons, the transactions set forth in the accompanying table, "except to the extent provided by law or unless licensed or otherwise authorized by [OFAC]." To date, OFAC has issued two general licenses permitting otherwise prohibited transactions: those involving (1) derivatives linked to assets prohibited by Directive 1 (General License No. 1A) and (2) transactions with DenizBank A.S. and entities owned 50% or more by DenizBank A.S. (General License No. 3).[xiv] Presumably, OFAC will issue, on or before November 28, 2017, a general license authorizing transactions in derivative products linked to assets prohibited by Directive 1 as amended on September 29, 2017 (i.e., linked to debt having a maturity period of longer than 14 days").

[v] Id. at para. (b).

[/vc_column][/vc_row]