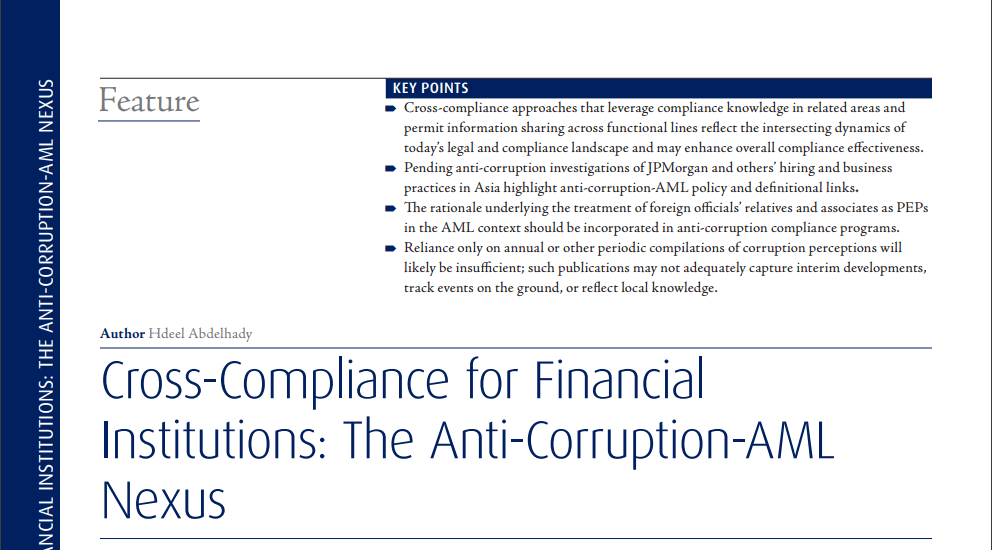 Cross-Compliance for Financial Institutions: Leverage AML Expertise to Enhance Anti-Corruption Compliance
---
This is an excerpt from an article authored by Hdeel Abdelhady that first appeared in September 2014 in Butterworths Journal of International Banking and Financial Law. Download PDF.
---
U.S. and foreign investigations of "corrupt" employment and business relationships between financial institutions and the family members of government officials highlight the links between anti-corruption and anti-money laundering enforcement involving financial institution dealings with governmental entities (e.g., state-owned enterprises and sovereign wealth funds), their personnel, and the family members of their personnel. 
The Anti-Corruption-AML Policy Nexus: Politically Exposed Persons  
In the case of the FCPA and similarly aimed anti-corruption laws, a party's status as a "foreign official" or equivalent triggers bribery prohibitions. In the AML context, government officials and their close family members are, by definition and effectively, selfsame—they are, e.g., defined as Senior Foreign Political Figures (SFPFs) under U.S. law and are treated as Politically Exposed Persons (PEPs) under international standards. In banking transactions their status, without more, triggers enhanced due diligence and other obligations for financial institutions. (See, e.g. Financial Action Task Force, Guidance, Politically Exposed Persons (Recommendations 12 and 22), June 2013 (discussing, inter alia, treatment of PEPs and close family members) ("FATF Guidance"); Special Due Diligence for Correspondent Accounts and Private Banking Accounts, Definitions, 31 C.F.R. 1010.605 (2013) (United States)).
While financial institutions subject to the FCPA or other anti-corruption mandates are not forbidden by those laws from hiring or transacting business with foreign officials' family members, their dealings with them should be approached with special caution, in light of AML rules classifying the same persons as high risk. As the Financial Action Task Force (FATF) has explained: "family members and close associates of PEPs should be determined to be PEPs because of the potential for abuse of the relationship for the purpose of moving the proceeds of crime [including corruption], or facilitating their placement and disguise, as well as for terrorist financing purposes." (See FATF Guidance).
Cross–Fertilization. Applying proven AML policies and procedures, such as know-your-customer (KYC) vetting, to non-banking transaction scenarios may improve compliance vigilance and outcomes. KYC investigative techniques may, for example, yield valuable information in jurisdictions in which true ownership may be difficult to ascertain or aliases/name variations are frequently used. With respect to government officials, status-based risk considerations, e.g., based on a PEP's level of seniority, should inform dealings with them and their family members, close associates, and other relations.
Think like regulators, and courts. Compared to highly specialized corporate legal and compliance practitioners, regulators and courts might be less inclined to take compartmentalized, and sometimes exclusive, approaches to legal interpretation and enforcement. Their views of laws' scope, applicability, and interrelationships, as illustrated by pronouncements of U.S. enforcement authorities and courts in the FCPA context, may be more expansive than standard compliance programs suggest. More fluid, policy-aware interpretive methods should inform both compliance habits (away from rigid, rules only, reactive approaches) and specific policies. (E.g., in compliance programs, definitions of "things of value" should reflect potentially relevant interpretations; awareness of laws or legal areas dealing with seemingly unrelated legal issues, such as the treatment of SOEs as sovereigns (or not) for jurisdictional purposes should inform understandings of the potential scope of compliance obligations).
Verify and Document When Hiring or Transacting Business With Family Members of Foreign Officials. Verify the qualifications of prospective employees, consultants, or others and document the verification process to demonstrate that hiring and business decisions were without corrupt intent, even where being well connected and presumably able to develop business is a primary merit possessed. Arguably, there is an appreciable difference between hiring the well connected to aid business development generally and hiring a specific well connected person for the specific purpose of obtaining or retaining business from that person's "foreign official" family member, close associate, or other relation.
Erect Firewalls. Where a prospective or current employee, consultant, or other party is a PEP, steps should be taken, preferably in accordance with established procedure, to ensure that individual does not participate in, be positioned to influence, or have access to information or transactions/dealings involving persons or entities of concern for anti-corruption compliance purposes. Documenting the existence of a policy-based firewall—in employment or business contracts and/or regularly disseminated and updated policies, etc.—would likely bolster the credibility of a compliance program (assuming such documentation does more than create a paper trail solely for future defense purposes, a quality usually perceptible to enforcement authorities).
Provide Business Training for Legal and Compliance Personnel. Financial institutions and other entities typically provide legal and compliance training to business professionals (often to comply with standard training mandates of compliance programs). Cross-functional training should be reciprocal: to enhance business knowledge among legal and compliance personnel; enable quick connections between legal, regulatory and business dots; and, potentially, facilitate productive relationships between legal and compliance and business functions (these relationships too often are limited, reactive, or unnecessarily antagonistic).
Information Sources and Awareness; Local Knowledge. Effective compliance and risk mitigation require that information be collected in a timely manner, substantively integrated (i.e., connect the dots), and disseminated in a way that resonates with different internal constituencies. Firms should not rely only on legal information; news, outside advisers, business and local grapevines, and other sources (properly screened) can also be informative for compliance purposes. Moreover, relying only on annual or other periodic compilations of corruption perceptions will likely be insufficient; such publications may not adequately capture interim developments, track events on the ground, or reflect local knowledge. (The value of local knowledge is acknowledged in the AML context—for example, the FATF Guidance does not fix the range of persons that constitute family members deserving high risk treatment; the Guidance suggests (in relation to Additional Measures for Specific Customers and Activities) that definitions be tailored for local cultural and socio-economic factors)).
Monitor, Internally Report Local (Anti-) Corruption Developments. Where foreign operations are concerned, information about local corruption perceptions and anti-corruption initiatives should be followed closely. For example, when a government announces an anti-corruption initiative, such a development could influence local decisions to pursue, independently or in response to enforcement by foreign authorities, action against private parties (local and foreign) and corrupt officials (with whom a firm might be doing business).Importantly, information about local anti-corruption initiatives should be analyzed not only from the financial institution's perspective, but also from the perspective of other relevant parties (such as foreign law enforcement). For example, a local government's announcement of an anti-corruption initiative might encourage foreign authorities to initiate enforcement actions involving that country's officials. And, local anti-corruption efforts might yield actionable information for foreign authorities.In addition, foreign political or policy developments might foreshadow changes in local law or business conditions, and corresponding risk. For example, in furtherance of political or policy developments, a type of payment to a foreign official that is permitted under local law might become outlawed, thereby creating new legal risk under local law and under the FCPA, under which the legality of a payment under local law is an affirmative defense to bribery. On the business side, local anti-corruption moves may adversely affect business relationships involving foreign officials, as illustrated by recent developments in China where SOE and other officials who had championed investments and joint ventures with foreign firms are under investigation for corruption.
Disseminate Information Across Functions; Compliance Liaisons. Facilitate information flow across functions and locations, taking care to avoid unnecessary containment or filtering. Where functional lines are rigid, key parties are likely to process information in a way that is limited to their own expertise or function, resulting in blockage of information flow. If relevance is defined too narrowly, parties best positioned to process information for compliance purposes might never receive it, or receive it too late. To efficiently manage and disseminate information (particularly in larger organisations), firms should appoint internal compliance liaisons to serve as dot connectors who collect and process compliance-relevant news and information and disseminate it to internal constituencies in a way that resonates with different internal audiences.